Did you know
Every year on January 4th we commemorate World Braille Day in honor of Louis Braille's birthday, 213 years ago. Braille, who was born in France in 1809, invented the tactile writing system for blind or visually impaired individuals after he himself went blind during a childhood accident.
While the braille language has changed and been updated over the years, Braille's (the inventor) system has largely remained unchanged to this day.
Braille was based on Charles Barbier's earlier invention of a code of up to 12 dots in two columns. Braille used Barbier's new reading and writing method to develop his own system and ideas, simplifying and maximizing its efficiency. He completed his system in 1824 when he was merely 15 years old.
Even though we are accustomed to seeing braille on many objects in our daily lives, such as signs, ATMs, elevators, calculators, and more, we are still far from living in a society that levels the accessibility-playing field for all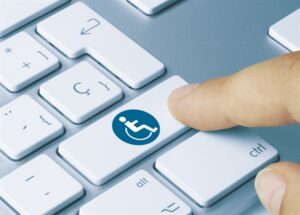 World Braille Day is a wonderful opportunity to raise awareness of people with disabilities and the remaining efforts we still have to make before reaching an equal and accessible society for all
The Americans with Disabilities Act (ADA) is landmark legislation that prohibits discrimination against individuals with disabilities, aiming to facilitate equality in all areas of public life.
This includes the Internet, as enterprises with websites are compelled to "open their doors" to the large portion of impaired persons.
The code of regulations was enacted into U.S. law in 1990 by President George H. W. Bush.
The ADA was the direct result of years of effort of the disability civil rights community. Its legal framework can be traced back to Section 504 of the 1973 Rehabilitation Act, prohibiting discrimination of disabled recipients of federal funds.
It also builds on the 1964 Civil Rights Bill to widen non-discriminatory laws and compensate impaired individuals who face inaccessible goods, services, employment opportunities, or public accommodations and activities.
The problem with these websites
Technology can be complicated, but it doesn't have to be inaccessible. Accessible software not only makes life easier for those with disabilities or impairments, but they're also better for everyone: people without a disability who can use the technology more efficiently and effectively as well. Designers need to prioritize Web Accessibility in their work so that lives will continue being improved through innovative design solutions—no matter if this is accomplished by engineering an accessible framework from scratch or building on top of existing ones like Bootstrap and Foundation, which already include features dedicated specifically towards making websites ADA compliant (including keyboard shortcuts such as Tab+Shift). The time and investment it takes to build correctly are not worth it for many companies. It's more convenient, easier on their budget, and ultimately less reliable than a custom solution.
The majority of businesses would prefer a quicker fix over one that may needlessly take longer or be difficult if they can even afford such measures. Website Accessibility Made Easy – Try Now Its Free
Search engines use artificial intelligence and machine learning to understand digital content. Search engines or web crawlers are constantly crawling the internet to catalog content. Websites are then ranked and indexed in categories, so it is easier for the bots to comprehend the content of your website.
Websites that are accessible are practical for search engines to crawl
Since search engines are essentially bots, they have limitations and may not fully understand all the content on a website. So, if you make sure everything is well labeled or has alternative text, it will show up in people's searches without any problems. Websites that are easily accessible to people with disabilities can help improve the search engine optimization of your site.
Overlays in new cutting-edge technologies
EqualWeb is at the forefront of developing accessibility solutions and manual remediation so that businesses can maintain their compliance despite constant content and design updates. With our customizable WCAG Monitoring Scan, we provide regular reports to help companies to maintain compliance while also providing a better user experience than alternative methods for improving overall web performance on every device- your site will be accessible from any browser or Internet connection with no loss in speed, accuracy, or usabil
: Websites integrated with brick-and-mortar stores
Suit claims filed in federal courts have grown exponentially since 2018, with 10,982 ADA Title III cases filed in 2020. The trend only continued to grow in early 2021 (according to a Seyfarth report).
The precedent for web accessibility-related claims was set in 2006 with National Federation of Blind v. Target Corp., 452 F. Supp. 2d 946 (N.D. Cal. 2006).
The plaintiff sued national retail chain Target for not providing accessibility on its website to the blind.
The case tested Title III of the ADA, as Target argued that it applies to physical spaces only.
Conclusion
Overlays are all the rage for their potential to help people with disabilities do what they need on a website. However, as we pointed out earlier, both good and evil come from these overlays.
They can hurt an individual's experience by being too difficult to use or even making something unusable altogether! And while those who work closely in this field may know how best to use them safely under ADA law, others might not be aware of the legal risks involved when using such tools without first checking up on them themselves.
To make sure your website is accessible and lower the risk of a lawsuit, ADA compliance for Title start with an accessibility review. This will give you a baseline on what needs fixing for people who use this type of technology; identify key barriers that need attention first to keep working towards more inclusive design practices in every stage from web development to enterprise-level management, and put plans in place with long-term solutions.
Why are the steps necessary? It's important because it benefits those using special devices and because best practice dictates companies be compliant with laws like Section 508 amendments or Title III revisions that require testing their products against standards such as WCAG 2AA compliance before release (or any customer service).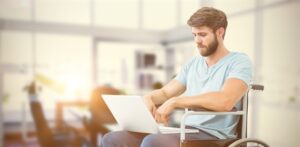 Monitor & Scan
Monthly, check for accessibility issues. This catches 30-50% of website accessibility problems [in an average company].
With the EqualWeb WCAG Monitoring Scan, you get to:
Monitor your website in real-time and receive your detailed accessibility report.
Clear remediation guidelines on how to fix these issues.
Schedule your scans to monitor any design or content changes on your website.
Follow the changing guidelines and receive the best practices when it comes to accessibility.

The nuts and bolts of ADA compliance can be overwhelming. This is where the expertise of EqualWeb in the web accessibility and legal compliance fields becomes invaluable.

EqualWeb offers the best ADA accessibility solutions in the market, tailored to small, medium and large businesses, including non-profit organizations, which will (a) open your goods and services to large swathes of the disabled population and (b) provide you with full legal compliance.

In fact, we at EqualWeb are so confident in our product that we include a $1,000,000 warranty in our all-inclusive services
Accessibility Report
Manual testing provides a complete examination of accessibility across the defined web pages, yielding more information than automated or rules-based scanning. This is a great option when you need to ensure every aspect of your content is accessible and provide documentation of issues and resolutions. You can view EqualWeb's accessibility report.
Remediation
If you need help implementing accessibility remediation through EqualWeb's remediation plan, we can also provide tips through our 24/7 Help Desk.